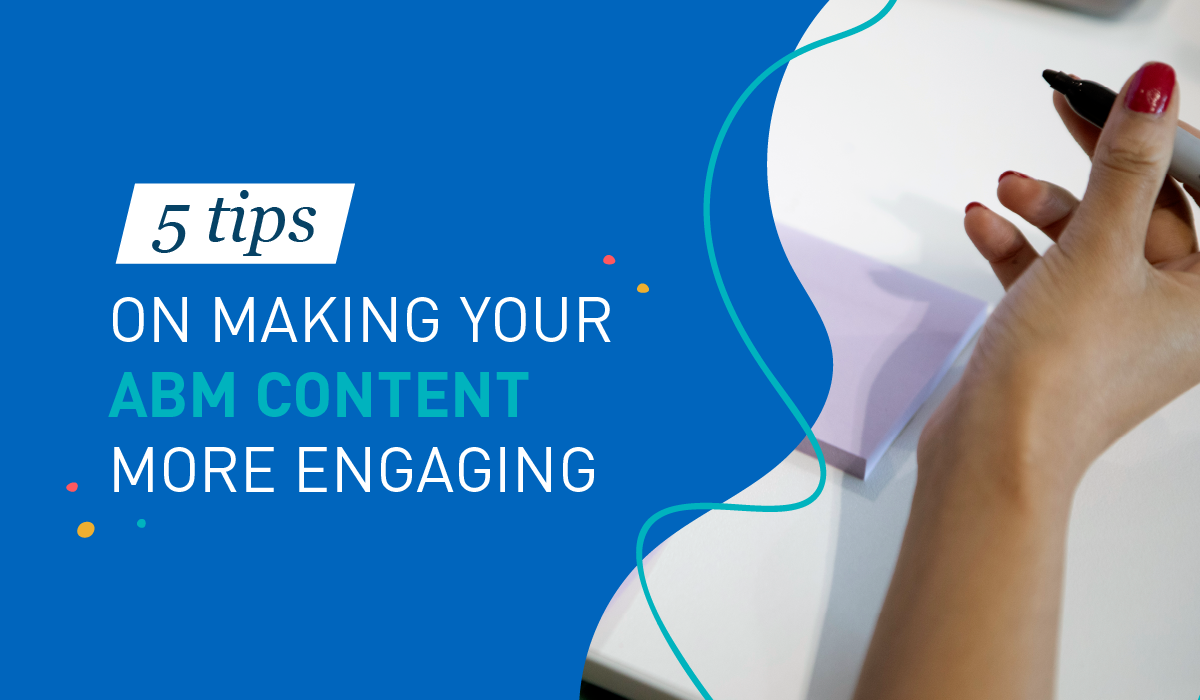 ABM (account-based marketing) is an effective form of marketing that focuses on a specific list of prospects, based on a certain, strong set of criteria (e.g. high-value accounts). The idea is that with even greater personalisation when developing content, you will have a much higher chance at not only converting those prospects into paying customers, but also promote brand loyalty and keep them around for good.
In this article, we're going to look at how to make your account-based marketing content more engaging. But first, let's begin with how to put together an effective strategy for ABM content creation.

Creating a solid ABM content creation strategy
Strategy in marketing is everything. You want to carefully consider what the needs of specific high-value prospects are, and how you can develop and deliver content that speaks to those requirements.
Consider the following 5 questions in building out your strategy:
What are you trying to accomplish through your content? – establish your goals.
Who are you speaking to? – define the buyer persona.
What are the various types of content that may resonate best? – identify irrelevant content and underperforming pages.
How can you differentiate your content from your competitors? – look for competitor content gaps and fill them.
What methods will you use to promote said content? – there are many content management systems (CMS) that can help you with the creation, organisation, and publishing of your new developments.
Here are some other useful tips that you can implement into your content development strategy:
Go over your existing content: not only is it already good practice to go over and regularly update your existing content inventory, but you may also be able to find relevant articles that can easily be updated to match the needs of a target prospect. Yes, you should always be creating fresh content, but repurposing content you already have can be valuable too.
Focus on interactive content: interactive content is without question, some of the most engaging content that attracts buyers and influencers. As such, with an emphasis on this type of content, you can modify it to suit your current ABM campaigns. Keep it flexible so that content can easily be cloned and re-optimised for various other ABM prospects as well. (You can read more specifically about how we do video.)
Create well-optimised content hubs: a content hub is essentially a stand-alone webpage that cannot be found in your standard website navigation. These can be created and personalised with each prospective account in mind, with a wide variety of interactive content, imagery, and videos.
Utilise website personalisation: rather than having a standard website experience for all visitors, there are personalisation tools that you can leverage to create unique, account-focused experiences for specific individuals – and can be customised at each stage of their B2B journey.
Look to your partners to create joint content: if you don't have a huge amount of available resources for content creation, or if you have strategic partners that may be able to bring something unique to the table, there are benefits to joint efforts. Look for partners that already have excellent industry-specific content that you can use to engage with a particular account.

Here's how to make your ABM content more engaging
Now that you have a clearer idea as to how to put together a content strategy, these tips will help you create better, more engaging content:
1. Focus on the aesthetics and the functionality: yes, long-form content is ideal in certain situations, however, when trying to establish initial interest with a prospect, you need to draw their attention fast.
Some quick tips:
a. Imagery is critical to conveying your message visually.
b. Make your content compelling, but don't overdo it with pictures.
c. Ensure it is responsive and accessible – readers must be able to 'pinch and zoom' if they need to.
d. Interactivity must not be underestimated.
2. Personalise, personalise, personalise! – the most effective content will feel as though you are speaking directly to your prospect. It must resonate with them on every level – while evoking powerful emotions. You want to be their knight in shining armour, as it were.
a. Do your research. You've got one shot to impress them so get it right!
b. Think about the sales funnel from end-to-end and create a curated customer content journey.
c. Let it be known just how well you understand the prospect and their needs – and how you can help them overcome their challenges.
d. Create content that brings free value, solves problems, and proves that you are the authority.
3. Time it perfectly: timing in account-based marketing really is everything. Once you have all of your valuable content ready to go, make sure it arrives in front of your prospect at the most opportune moment. (10pm on a Saturday is a good example of disastrous timing.)
4. Drive your content with data: any effective ABM strategy requires data – and lots of it. Take the time to analyse the data you collect and adapt accordingly.
a. Collect detailed metrics that measure the performance of your content to determine what is working best and what isn't.
b. Sync your data with your CRM system so that all departments who will come into content with said client can tailor their follow up based on the information gathered and the content delivered.
c. Always come back to your data and forever pivot and evolve your methodology.
5. Hire serious talent: lastly, the key to creating truly effective and engaging content is by hiring serious talent. In the same way that you would hire a number-wizard to take care of your accounting, outsource your content creation requirements to dedicated professionals who have developed a reputation for writing copy that converts!
Creating engaging content for your account-based marketing all boils down to understanding precisely who you are targeting. So, do your research, develop a comprehensive account persona, gather as much data as you can on the type of content that resonates best with your prospects, and then continue growing from there.
We hope that you have found this article helpful and inspiring. If you feel somewhat overwhelmed and would prefer to outsource these requirements to the professionals and focus your time and energy on what you do best, please do not hesitate to contact us for a virtual coffee today. We're always looking for new and exciting challenges to get stuck into!