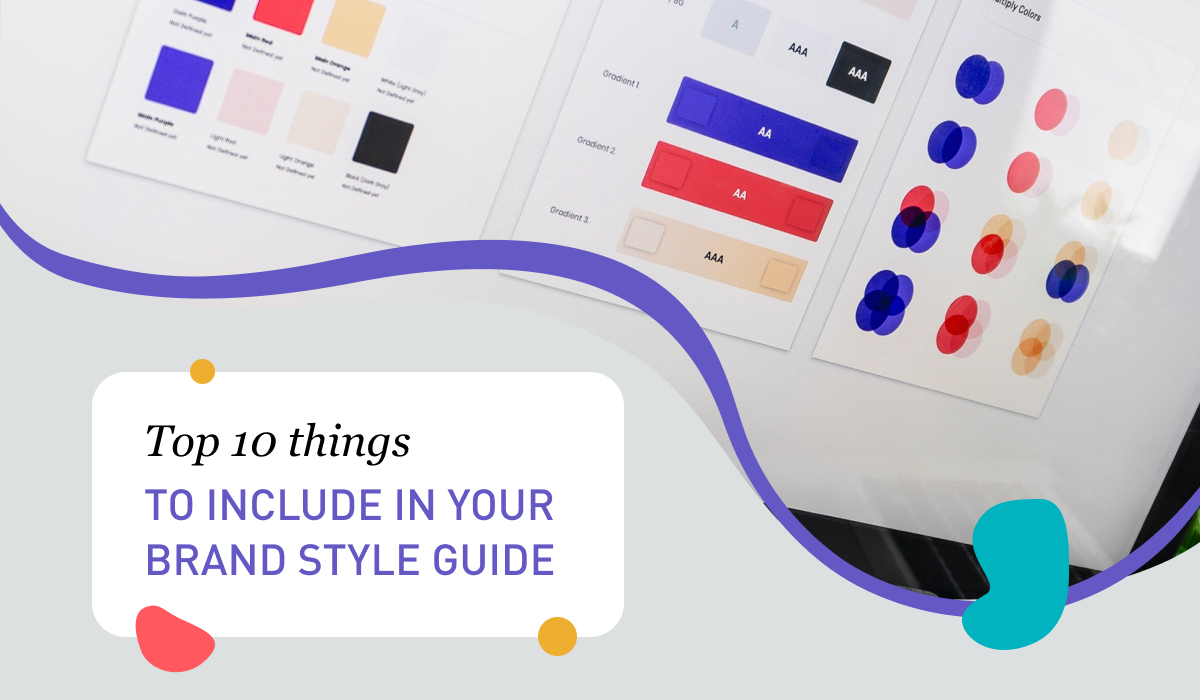 A great brand style guide takes the essence of your brand – what it's all about – and translates it into design. It helps the team stay on the same page about exactly how to communicate your brand.
When you go to a branding design agency for help with bringing your business to life, you'll more than likely be presented with a questionnaire of sorts – which can catch you off guard and make some people feel a little overwhelmed.
To give you some idea as to what to expect, here are 10 things that you should include in your brand style guide, for the best possible results.
And it goes a little something like this…

1. A compelling brand story
The best designers are storytellers; which means that they love reading and listening to stories as well. They're usually the dreamers who spent most of their time at school staring out the window while lost in thought – traversing the boundless isles of the uncharted mind.
Use this to your advantage!
Share your story as best you can and leave no proverbial stone unturned. Bare your soul and share every detail about why you started this business, where you see it in the future, and what you want it to represent.
It doesn't have to be expertly told and wonderfully worded, it just has to be honest. Then, an expert team can dig through your thoughts and use them to start constructing a brand that is not only true to you, but also the products and services you wish to promote – and indeed the customers you wish to attract.

2. Defined logo guidelines (with room for creativity)
You should already have a fairly good idea of the kind of logo that you'd like to represent your brand. Be clear and define your logo guidelines! Share some examples of logos or images that you love and resonate with.
But remember – leave room for creativity as well. The best designers will listen closely to what you want and then apply their knowledge and expertise to create something perfect. We might not get it on the first draft, but if you provide as much information as possible, we'll get there quicker and with greater accuracy.

3. A colour palette
We're already well-versed in colour psychology and we suggest that you check out some research of your own. Do your due diligence and explore the various colours and how they can influence consumer perception and behaviour. Let us know what you like and we'll go from there!

4. Typography and font suggestions
Do not underestimate the power of font and typography. Are there any fonts that resonate with you? We're happy to create something unique, but if there's something out there that you've already fallen in love with, share it with us and we'll be happy to emulate it!

5. Imagery guidelines
What kind of imagery and illustrations do you feel suit your brand vision best? Look to Pinterest and Behance as starting points for inspiration and put together a moodboard.
They say that a picture can say a thousand words, so, rather than write us a brief girthy enough to rival War and Peace, why not send us a beautiful gallery instead?

6. Language & tone of voice
Language is critical to building your brand voice. How do you want your brand to come across in your content? Do you feel as though a professional, corporate tone will best serve your products and services or would a more playful and personal approach be more appropriate?
What are your favourite words? Is there a certain brand whose language tickles you the right way? Let us know how you'd like your brand voice to sound and we'll get to building a lexicon that can shape the future of your content creation.

7. Do's & Don'ts
You've almost certainly got a few do's and don'ts in mind, so let us know, and why? We don't just want to know what you'd like to avoid, but why it's an absolute no-no. Is it a little too cringey for you? What fits into your brand's inclusivity guidelines? Do you think it goes against what your ideal target audience would agree with or appreciate? Let's have a discussion and we'll use these as guidelines to create a brand that you can be proud of!

8. Be specific with examples
Let's not beat about the bush here: we are exceptionally good at creating brands, but we ain't mind readers.
Don't get us wrong; we love being given a few pointers and an otherwise free reign to exercise our creativity, but it helps to know if you have something specific in mind. Provide examples of copy which correctly reflects your brand, and example marketing pieces which you want the creatives to use as a reference point.
Curious about how we do it? Check out how BlueMelon does branding.

9. Your ideal customer profile
The very fact that you are here, ready to start building a brand, means that you already have a business plan in motion – including an ideal customer.
If you can provide us with as much information on the target demographic that you'd like to attract, we can get to work on formulating a brand that will tickle their fancy, resonate with them on an emotional level, and ultimately encourage them to do business with you.
Check out our handy buyer persona template available for free to get started.

10. A little bit of flexibility!
That's right: include a little faith in your brand style guide as well. If you don't feel at least a moderate amount of confidence in your chosen design agency as the right creative agency for you, then you should probably go back to the drawing board.
Yes, you likely already have something in mind, but you'd be surprised by how many business owners end up falling in love with brands that were wildly different to those that they thought up in the garage when they birthed their business plan in the first place.
Have a little faith! Remember, most reputable and established branding and design agencies do this daily. It doesn't always happen on the first draft, but we'll get you to where you need to be.

Want to know more about branding?
If you'd like to know more about our branding process, what kind of information you'd need to provide, or how we can help shape your business, then please do not hesitate to contact us today for a free consultation; we're always happy to help!