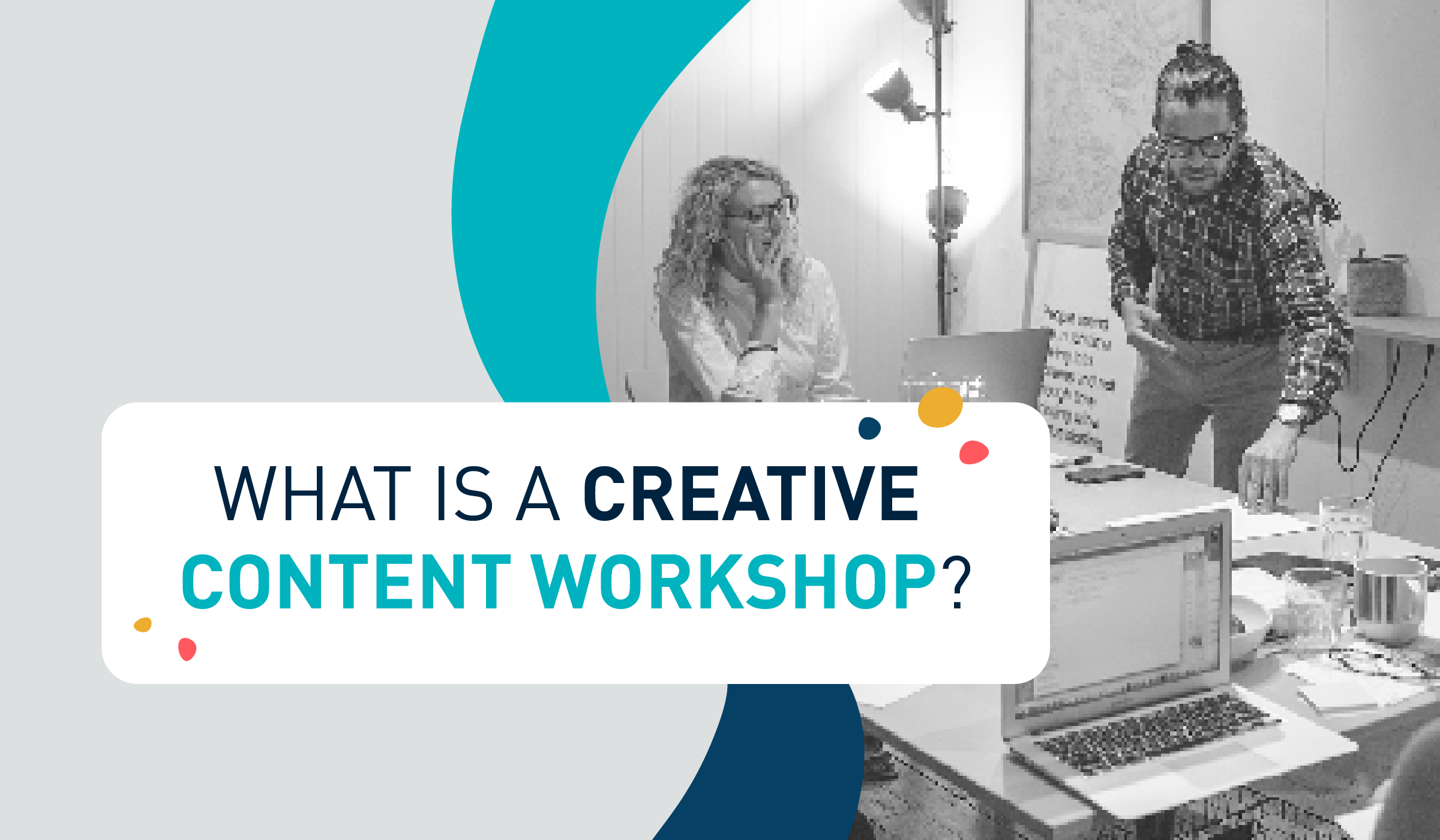 Creative content is the lifeblood of the modern business; the connective tissue that allows businesses to build and interact with customers at every touchpoint of the buyer's journey.
From newsletters and social media posts, to product descriptions and "how-to" blogs, quality content marketing can be leveraged to establish authority in your field, educate your prospective customers, and outshine your competitors.
But how can you find your so-called "brand voice" that marketers are constantly banging on about? And how do you go about building a content strategy that is airtight and bound for success?
A creative content workshop (or content marketing workshop) is a great place to start and in this article, we'll tell you everything you need to know.

What is a creative content workshop?
A creative content workshop is, in essence, a company meeting that gathers your team together in order to clarify your marketing objectives, better understand the nature of creative content creation, learn how to lend a consistent voice to your brand communication, and improve the overall customer experience when they interact with your business – thus leading to consistent future growth.
You might organise a content workshop because:
You wish to handle the majority of your content creation in-house and need to train the relevant parties on the 'how' and the 'why' by leveraging the expertise of an established creative agency.
(This can be highly effective if there are certain shareholders in your business who aren't particularly sold on the importance of content creation and you struggle to get buy-in from key decision makers.)
You would like to outsource the majority of your

content creation

requirements to a third party and wish to gather all of your employees to share ideas and play an active role in the initial planning stage.
(This is a wonderful way to bring your team together, boost morale, promote individual ownership, and gather brilliant and unexpected ideas from those who may otherwise not have much input in the content creation process.)

What happens in a creative content workshop?
A creative content marketing workshop can vary depending on what you would like to achieve. It might look like a condensed session on one specific aspect of your online marketing requirements or a longer session with a focus on the wider spectrum of content creation.
Similarly, you can have a creative content workshop with only the individuals who will be leading the charge or involve your larger organisation and allow every department an opportunity to both learn about, and contribute to, your content creation.
You'll be looking at things like:
Creating a

content marketing strategy

that slaps
Coming up with new and innovative ideas for online content
Writing SEO-friendly content
Updating your existing content so that it can rank better in search engines
Building a solid content marketing team to handle your requirements in-house
Advertising online with various platforms such as Google or LinkedIn
You may also go over the following with your content workshop specialist:
Past results and analytics from your website and content
What your monthly schedule looks like (use our

free content calendar template

)
Any strategies & campaigns you have in place
Examples of previous content used
By exploring the above in greater depth, you and your team can get a better idea as to what a quality content creation campaign should look like. It also allows you to learn from past mistakes and identify why certain content may not have been gaining the traction you initially anticipated.

Our unique approach to creative content workshops
When we put together creative content workshops for our clients, we always strive to make them as interactive as possible. That way, when our attendees are finished, they leave the workshop with an airtight and detailed plan of their own design. We put great emphasis on the following:
Goal alignment: the best part of any creative content workshop is hearing about how the various groups within a single organisation view the individual roles and goals. With a content marketing training session, it can help to align everyone's vision and put you all on the same page.
Mind mapping: the best content marketing needs excellent creative ideas – and lots of 'em! Mind mapping is a kind of brainstorming exercise where everyone taking part in the creative content workshop has the opportunity to get creative and share their ideas. By outline various distinct topics and asking attendees to jot down their thoughts, we can generate tonnes of ideas and then start sharing and putting them together to see which resonate the best.
Mapping the customer journey: another great aspect of the workshop process is talking about aligning the content with the customer journey itself. This requires everyone's input so we can paint an accurate representation of what that specific journey looks like. With a better understanding of the steps involved, it is easier to plug those content gaps and identify key opportunities to engage.
Understanding keyword research and content ideation: we will also introduce you to a variety of tools that you can use to maximise your chances at content success. We will teach you where and how to focus your efforts and what you can do to develop the critical skill sets required for creating SEO-friendly titles and quality, optimised content.

Contact us today to get the ball rolling on your creative content strategy
If you believe that a creative content workshop is something that you could benefit from and would like to explore it further, please do not hesitate to contact us today. We will tell you everything you need to know and can start working toward tailoring a session for you and your team!