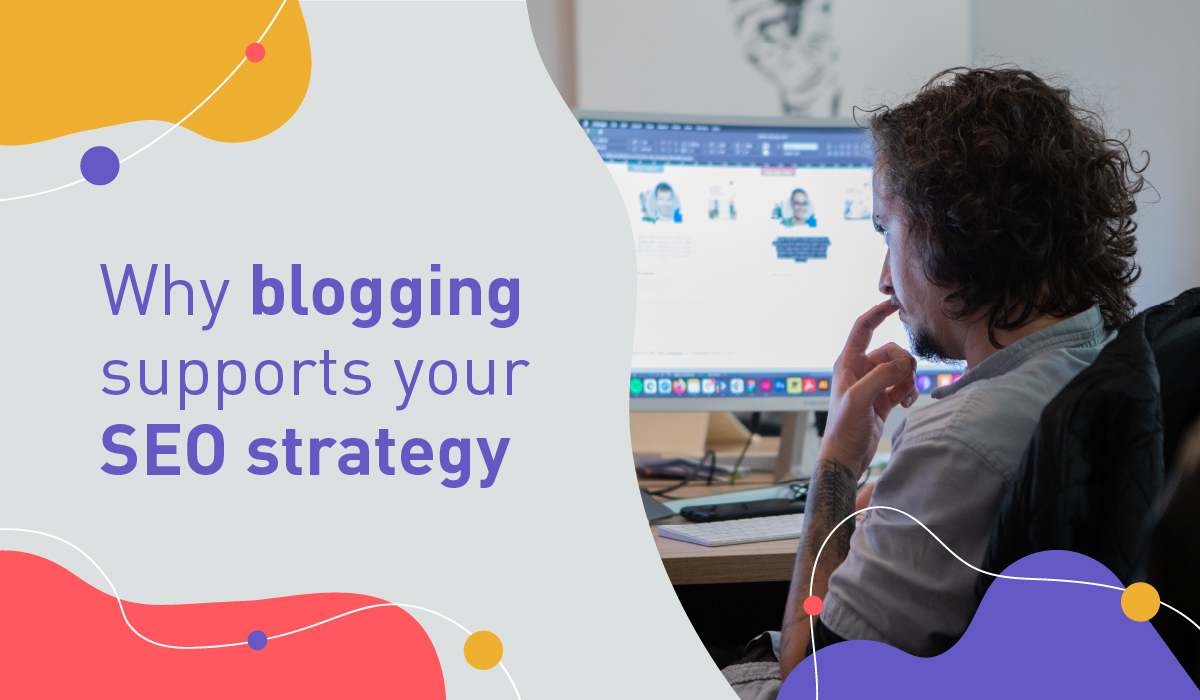 In the realm of digital marketing, various strategies and tools bring their unique flavours to create a cohesive and effective marketing tapestry. Blogging, a powerful element in this medley, can support your Search Engine Optimisation (SEO) efforts, ensuring your content resonates with search engines and captivates your target audience.
Continue reading to discover how blogs and SEO work hand-in-hand to create a seamless and effective marketing strategy that yields impressive results.

Blogging: The foundation for SEO success
Blogs act as foundational content on your website that invite search engines to understand, index, and rank your web pages.

Step 1: Mastering the art of keyword integration
Optimising your blogs for SEO algorithms not only boosts your search engine rankings but also increases your organic traffic and online visibility, ultimately amplifying your brand's reach.

Step 2: Orchestrating engaging and comprehensive content
In the world of SEO, high-quality content rules the roost. Crafting engaging and informative blogs compels users to stay longer on your website, ultimately improving your SEO performance.
To mesmerise your audience with captivating content, keep the following advice in mind when selecting blog topics:
Prioritise user-centric content that is relevant and resonates with your target audience
Address their needs or concerns, and provide value
Ensure that your content provides comprehensive insights on the subject
Cover various aspects and present practical solutions
Position yourself as an authority in your field to signal your expertise to search engines.
Additionally, pay attention to the readability of your blogs, using clear and concise language, organising the structure effectively, and incorporating visually appealing design elements. This will help users easily grasp essential information and improve their on-page experience.

Step 3: Weaving together a tapestry of internal and external links
Blogs create opportunities for weaving together an intricate web of interconnected content. By incorporating relevant internal and external links, you enhance the user experience and guide search engine crawlers in understanding and indexing your website.
Internal linking: Connect your blog to related content on your website, guiding users to valuable information and driving engagement while facilitating seamless navigation
External linking: Cite authoritative external sources to showcase your research, lend credibility to your blog, and provide context to search engines, demonstrating your blog's value and relevance

Step 4: Planting the seeds of social sharing and audience engagement
Blogs create a space for fostering deeper connections and conversations with your audience. Additionally, social sharing of your content contributes to your online visibility and brand recognition, indirectly supporting your SEO efforts.

Encourage interaction by ending your blogs with engaging elements, such as call-to-actions (CTAs), that urge users to comment or share their thoughts. By opening up the floor for discussion, you create opportunities for valuable engagement.

Moreover, start embedding easy-to-use social sharing buttons on your blog, enabling users to share your content on their preferred platforms. As your content spreads through social networks, you'll watch your online visibility and brand recognition develop in no time.

Blogging and SEO form a powerful partnership that can greatly enhance your online presence when executed effectively. By strategically incorporating target keywords, creating comprehensive content, utilising strategic linking, and engaging with your audience, you can orchestrate a captivating performance that will captivate both search engines and users alike. So, let the symphony of blogging and SEO play, harmoniously expanding your digital marketing horizons and unlocking new opportunities for success.

At BlueMelon, we're experts in creating tailored digital marketing solutions that deliver results. Reach out to us today to learn how we can help you elevate your online presence and drive traffic to your website. Let's work together to achieve your business goals. Come have a chat with us!