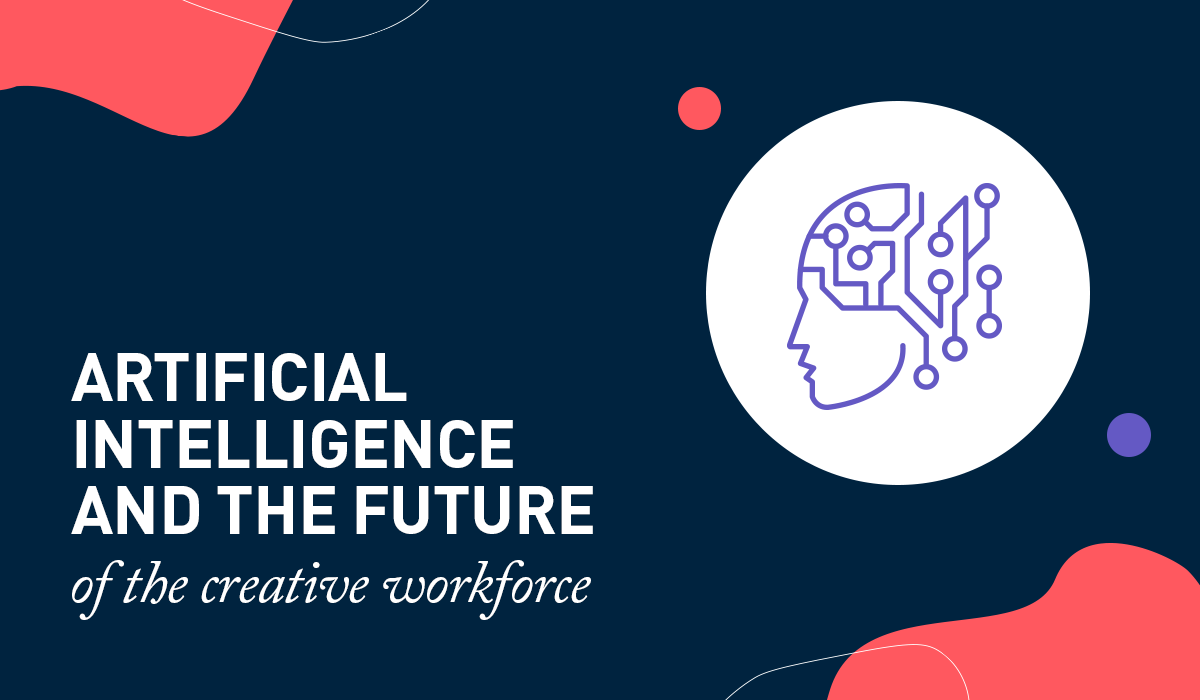 Amidst the current workforce upheaval, supply chain disruption and mass resignation, we're curious to see what the future holds for creatives (designers and writers alike).
Artificial intelligence is the ability of a computer or machine to complete tasks normally carried out by humans. Also known as AI, it is touted as the answer to a lot of problems faced by the post 2020 workforce. But how will that impact creatives? Can we expect to be replaced by analytical robots, or is human creativity something that simply cannot be replicated by a robot?
Read on as we explore whether creativity can even be replicated by a machine, and how we can lean into artificial intelligence to boost productivity.

Can artificial intelligence replace human creativity?
Artificial intelligence is already beginning to be explored in the creative workforce. Adobe, and closer to home, Canva, are at the forefront of artificial intelligence for creative use. Adobe's Sensei; a tool to enhance creative workflow in areas such as content management, personalisation, and image manipulation is a cloud based artificial intelligence solution. World-leading mockup creator Smartmockups and smart background remover Kaleido are Canva's solution to making it's platform easier to use, for designer and non designer alike. Both Adobe and Canva focus on building their machine learning and artificial intelligence offerings. Are these content-aware features removing creativity from the equation or is it merely a tool to get through mundane work quicker?
Contrary to popular belief the pandemic actually accelerated demand for creativity, from video editing skills (hello short form TikTok style content) to the power of "dopamine dressing" (cultivating joy by dressing creatively), to creative problem solving in the workplace. For example, Ben and Jerry's faced the challenge of a campaign produced entirely remotely during lockdown using AI-powered Adobe Dimension. Adobe Dimension was used as a tool to smooth the process by combining stock images, creating realistic looking photographs without stepping foot in a studio. What AI didn't replace was the creative thinking, problem solving and content exploration that humans excel at.

The limitations of AI in creativity
Artificial intelligence can be a powerful tool to enhance creative ideas and take care of mundane tasks. But, to answer whether it will truly replace creativity we need to look at what AI can and cannot do.
Finding patterns and combining existing concepts into a new form is nothing new for AI. Deep learning; a form of programming where an artificial intelligence is exposed to thousands of examples so it can mimic what it "learns" can be a useful tool for the creative industries to speed up processes like prototyping or editing. Doing a single, specific task without variables or variation is what AI does best.
The limitations of artificial intelligence stem from its ability to judge, and create something new. Although we may be able to program a machine to recognise something, teaching it to create from scratch is a challenge that AI is yet to overcome. The ability to think up something "new" is what makes human intelligence and creativity unreplicatable by AI.
A major limitation for AI in creative work is its inability to judge, refine and justify ideas. This form of exploratory creativity pushes the limits and can lead to the 'shock' of surprise or a wholly new idea. Cultural context, judgement and innovative ideation is hard to replicate, and hard to define, preventing AI from pushing boundaries and creating something new.
There is a high barrier to AI creativity, requiring a specific mindset, technical knowledge and expensive tools such as high-powered CPUs. AI's limitation in refining and exploring ideas limits it to an input/output format; good for use on single tasks such as filling a background, but limited in new, true creativity. Even in a post-2020 workforce, there is no replacement for creative thinking with a human touch. But what can we expect from AI in the future?
It's unrealistic to posit that AI will replace the human soul of creativity. By viewing AI as a collaborator or an assistant, not a competitor, creatives could look to AI to lighten the workload for mundane tasks.
Adobe surveyed artists in the US, UK, Germany and Japan and found that three quarters would consider using AI tools as assistants in areas such as editing, image search and other "non-creative" tasks. Tools already in our arsenal such as Adobe Photoshop's Content Aware Fill makes editing backgrounds a breeze. NVIDIA Canvas's ability to create realistic-looking landscapes from a few scribbles, a game changer for concept artists.
The future of AI in the creative industry may be less about AI creativity and more about how AI can help improve workflow. Post 2020, creative jobs may be some of the most stable on the market. Utilising AI as a productivity tool to allow more free time to explore creativity, and creative tool makers such as Adobe are working to meet the demand for easy to use smart tools for today's (and tomorrow's) creatives.