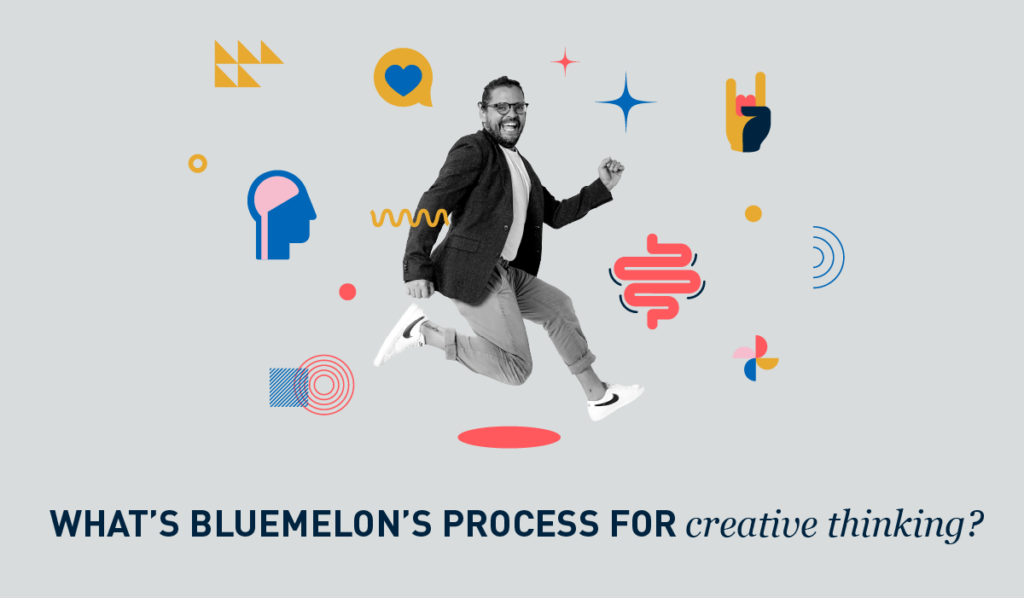 What if there was a way for B2B to be less boring, more personal? What if B2B took the banging best of B2C, and put its own spin on it? What if data-driven creativity wasn't the only go-to for B2B brands? What if human creativity blazed a new trail in B2B and beyond? What if … being brave enough to challenge the status quo opens up a new world of possibilities?
In the words of ever-optimistic Ted Lasso (Jason Sudeikis): "Taking on a challenge is a lot like riding a horse, isn't it? If you're comfortable while you're doing it, you're probably doing it wrong."
At BlueMelon, we believe in pushing boundaries by being brave – and a little uncomfortable. We believe delivering long-term, healthy growth for B2B businesses means not being afraid of the thing that will make a brand great. We believe unforgettable, original creative involves turning conventional B2B thinking on its head by focusing more on humans connecting with humans.
We call it The Full Melon Experience.
For Juan Pablo Gutierrez, founder and director, BlueMelon, The Full Melon Experience is about celebrating creativity in the B2B space: "We would love more B2B brands to step out of their data comfort zones and walk alongside us through the four stages of our creative thinking process. When you're a trailblazer, surprising moments and magic happens," he says.
What are the four stages of The Full Melon Experience?

Stage 1. We take a Head start
We start at the head.
Here, we consider the data and get analytical about your customers to uncover pain points, and understand how your products or services solve their problems. By interlacing these insights, foresight and hindsight, we bring together our strategic thoughts and crystal-clear planning.
From this web of complexity, we use our fresh eyes, lateral thinking and our Melon-smarts to strategise a simple plan to hit your business objectives – a clear roadmap, giving you direction in a world of possibilities. This strategy will help guide your B2B marketing decision-making.

Stage 2. We put Heart into everything
Data is only part of the story.
At BlueMelon, we put heart into our craft, along with compassion, loyalty and transparency. We want to solve B2B problems in a more human way. Humans connecting with humans. Our human focus, empathy and love exist in everything we do — it's just who we are.
We talk to people, we interview people, we listen to people. Guided by heart, we look for the magic away from the safety and repetition of the B2B hamster wheel, where there's no system confining our thinking. From the heart, our focus is on the people you're communicating with.

Stage 3. We follow our Gut-feels
Now, we match our heads and hearts with feeling.
An intuitive feeling makes us pause and notice small things that others may ignore. It's a gut instinct, when things just feel right. Interestingly, scientists call the stomach our 'second brain' because there's a network of over 100M neurons lining our digestive tract.
Yep, we feel it, we trust it, and it keeps proving itself, irrespective of logic. While data is great for our heads to analyse and follow, it's always based on past experiences. Intuitive thoughts focus on the present. As a trailblazer, you're willing to let intuition take you on an unexpected journey.

Stage 4. Our Hands craft your story
In the final stage of The Full Melon Experience, we're talking about many Melon hands – it's our collective talents, insatiable curiosity and individual abilities working together to create the magic that brings ideas to life. We're continually improving our craft, always learning, experimenting and refining what we do to build powerful creative solutions for your B2B brand.
Now what?
If you're curious about how these four ingredients could blaze a new trail for your B2B marketing, The Full Melon Experience could be for you. You'll be partnering with a bunch of humans who want to do great work with you. Book-in a chat with BlueMelon.