A New Product Launch. A New Market. Bring It On!
By digging into the human aspects of DevOps and audience needs, we developed a creative, go-to-market campaign.
Strategy | Campaign Journey | Interviews | Personas | Content Workshop | Content Marketing | Brand Awareness | Campaign Optimisation | Full-funnel Campaign
Cevo is an Australian based tech scale-up, growing rapidly in a highly competitive cloud migration and tech market. They were looking to expand their product offering and enter into new sectors across the country. Particularly interested in entering the Financial Services sector and supporting complex cloud migrations for tech leaders was their aim. Building a unique product offering that could serve their target audience, while building brand awareness was their challenge. By identifying buyer personas and their needs, BlueMelon worked with Cevo to refine their new offering, build a go-to-market strategy, and develop a creative and successful full-funnel campaign, incorporating a human-focus.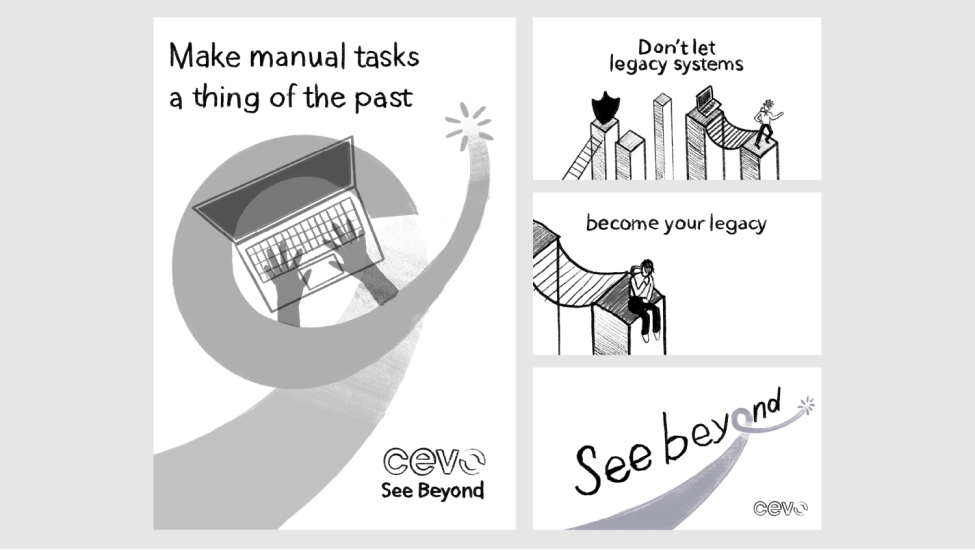 Breaking into a New Sector with a New Product
The Cevo team came to BlueMelon for support on a whole range of opportunities from strategy to execution to content creation and general marketing support. Ultimately, Cevo were looking to enter into a completely new market, Financial Services in Australia. They wanted to support their sales team, marketing function and consultants with sales enablement tools and content, build out brand awareness, and connect to new potential prospects within Financial Services. 

Stepping into a new sector has its own challenges, not to mention the challenge of creating a new product offering that resonates with that particular buyer and their needs. The questions in the Cevo team's minds were, 'How will we create something that resonates with the key decision makers?', 'What are their main pain points?', and 'How can we access them?'.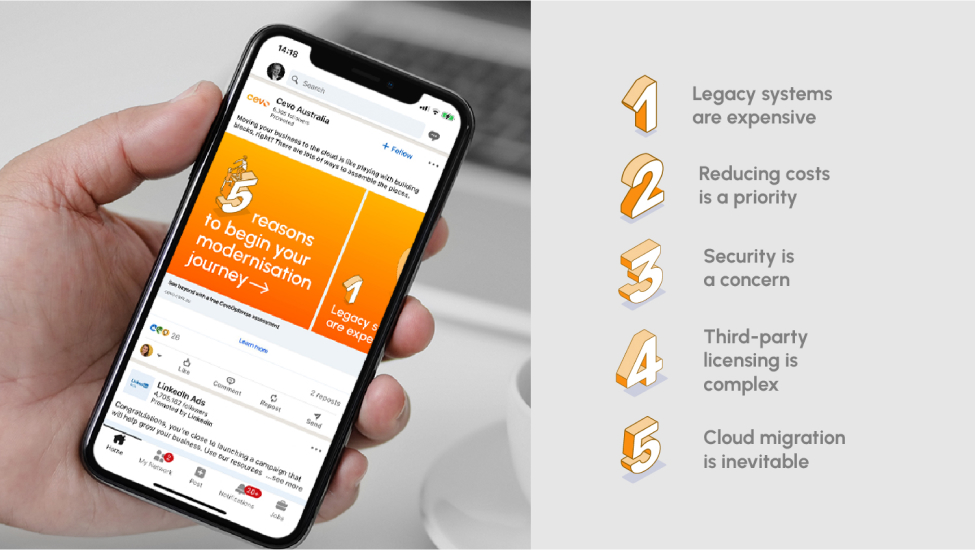 The New Product Learning Curve – Interviews, Personas, Buyer Journey & Needs
The team here at BlueMelon ran a series of interviews with the Cevo sales team and directors. From these interviews we were able to build an affinity map and pick on some key themes across teams and leadership to ensure we were covering the key messaging and requirements to go to market with a product and content that resonated with the target audience. 
We built out buyer personas, taking a full-funnel approach in understanding key questions, pain points and needs from brand awareness right through to conversion. We looked at how we could craft content to support the buyer's journey throughout their engagement with Cevo. Together, we were able to dig into what these buyer persona's need for flexible, scalable DevOps and cloud migration services. Enter the new offering, CevoFlex – a way for teams to scale their dev teams up and down, tapping into Cevo expertise and resources as they need.
Launching a Full-Funnel Campaign for CevoFlex
For Cevo, we created a go-to-market strategy encompassing a full-funnel campaign approach and key messaging for the CevoFlex product. It included many levers: organic content, earned media and paid campaigns. We created a suite of assets to support the main messages addressing the pain points experienced by their potential buyers. 
Our BlueMelon team took an iterative approach and used LinkedIn as the key platform to amplify the messaging through a full-funnel paid approach. We supported Cevo in the key messaging for their new CevoFlex offering, and developed creative for their new landing page, sales deck, email copy, interactive questionnaire, single image ads, carousels, bottom of the funnel conversation ads, and lead generation forms.
Together we were able to build awareness of CevoFlex within the Financial Services sector. Very quickly we saw some wins with engagement from very large and reputable banking institutions which we could feed back to the Cevo team for the sales leaders to personally follow up. We were also able to iterate and optimise the campaign quickly.
Reiterating the value of our BlueMelon offering, which focuses on a creative and human approach, the results showed that all content and ads using visuals of real people generated more engagement, more click-through and more interest across the board.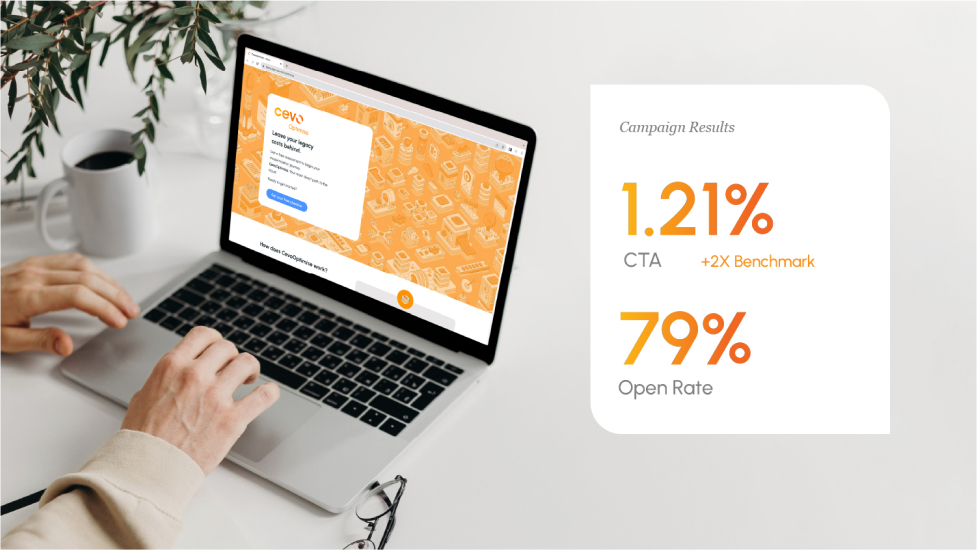 There were a few particular metrics the team here at BlueMelon got excited about: the CTAs were around 1.21%, over double the benchmark of 0.56% on the LinkedIn platform. And, the open rates for the Conversation Ads we ran were 79%, feeding directly into the InMail of key decision makers. Overall, a successful campaign launch of the CevoFlex product into the Financial Services market in Australia. 
Here's BlueMelon's Director, Juan, talking about these results and what followed:

"We've built our business on making B2B more creative and human. So when we created Cevo's strategy and campaign, we were fully expecting the human-focused assets and messaging to receive more engagement and be more successful. So, once confirmed by the data, we optimised all assets to ensure Cevo received the full value of our creative approach."
Juan Gutierrez, Director of BlueMelon
"I wanted to thank you and the rest of the team for all the work you have done to date. It's been a great learning exercise for us, and I can confidently say the team has opened up some eyes as to what good looks like.
The team has been an absolute dream to work with. BlueMelon's approach to the work, willingness to go the extra mile to get buy-in from the rest of our team, and ability to decipher what can sometimes be an unclear ask, has been amazing, and instilled a huge amount of confidence. So a huge thank you!"
Zoe Potter, Head of Marketing at Connetico, Brand Lead at Cevo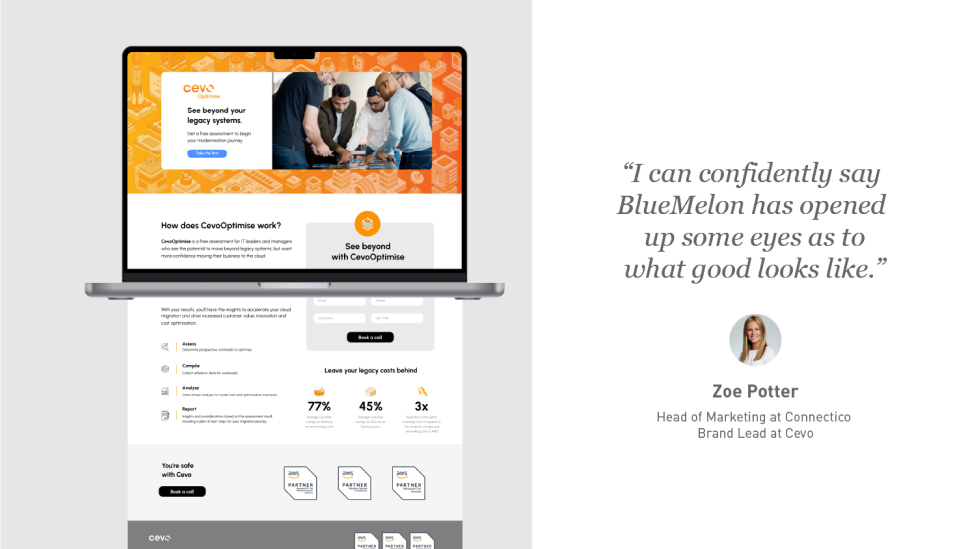 The Go-To Content Partner for Product Marketing Managers Around the Globe