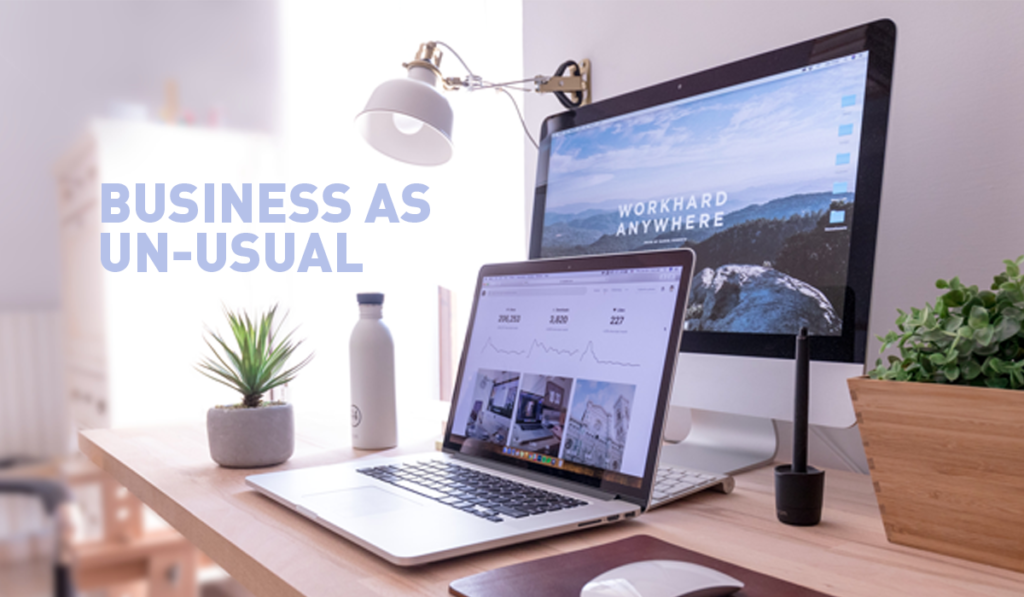 As time passes and social distancing becomes the new norm; my number one priority is keeping the team running, keeping them engaged and supporting them along the way. With the exploration of new ways of working together while delivering outstanding client work and minimising delays, I am proud and happy to say that our team of melons have done an amazing job so far.
Don't get me wrong, as a creative agency we're comfortable with conference calls, working with clients in different time zones and using programs that enable us to work wherever we need to. But this is different for us. Being at home the whole day is not something I am used to. I guess this is part of the challenge. 
So to bring some positivity to this situation, I just wanted to share some of our learnings with you guys and insights into what our new business as usual looks like in this very unusual situation. 
Here are some of the things we have implemented in BlueMelon that may work for you. 
Our Network and File Sharing space
This is a crucial one. We have big editable files, files we share with clients and files that are part of our extensive library of assets. They go from high res images to video to anything you can imagine a creative agency may need to work their magic. For this we have:
Our network
Synology NAS with 12 TB in the agency:

This works like a mini server that allows us to keep all files backed-up and secure in 1 location. 

Google Drive:

We use this to make files available to our teams across different locations. To do this, we use Google Drive as a bridge between NAS and our melon computers. Basically, we create a folder in G.Drive called "Projects Active" and a folder with the same name in NAS. We then use a nice little feature called Cloud Sync to keep the two folders in sync at all times. So, all you need to do is give your team access to the G.Drive folder and whatever they upload there will sync back to NAS. Neat huh? There is a little bit of upload and download time but hey – we can all have access to our files, woohooo

Back up NAS:

We use an external hard-drive to back up NAS, just in case.

Folder Sync:

We avoid dragging and dropping files as much as possible. One good idea is to have an app like Folder Sync to keep your folders updated with the latest files. So when creatives are working on their local machines and they finish for the day, they just click a button to sync the local folder with G.Drive folder which it also syncs with NAS.

Wi-Fi:

Well, this is a tricky one as it all depends on what internet connection our melons have in their homes. Some of them may be on NBN and others in ADSL2, which makes it hard for us to control, but here are some things we are looking into:

Getting pre-paid hotspots that they can use to upload or download files. This can be done by adding data to their plan or by getting a Netgear that allows for 4G connectivity. Making sure that there are not too many connected devices on your network is a simple but important one. The more connected devices, the less bandwidth. Do you even know how many things are connected to your network now?
Run Speed tests. Upload and download times are very temperamental  – check tools like

https://www.speedtest.net/

or if you are with Telstra check out the neatest app to manage your home network – "Telstra Home Dashboard App" gotta love that one
Sharing Files with Clients:
Google Drive: For this, we have a different folder called BMD_Clients and just upload the files that we want our clients to have access to.
FilerTransfer: If the client doesn't have access to Google Products, we use FileTransfer or DropBox. 
Our awesome Rituals to keep people engaged and connected
How can you keep your teams in sync, connected and engaged with what is happening on a daily basis? Well, for us, the answer was to continue doing some of the things we were doing in real life and to add some new flavour with new rituals. Here's what we currently do:
Morning Stand up:

We used to do this every day, face to face and go quickly around the room to see who is working on what and if there are any blockers. This gives visibility to the wider team and helps us shift priorities if we need to. Now we do the same, but we use Google Hangouts and to keep things a little organised. When someone finishes their commentary, they pass the ball to someone. Passing and catching the invisible ball can be funny to watch.

Team Huddle:

At 4:00 pm we have a quick catch up session with the team, see where we are at and see how everyone is feeling. This is more on the emotional side as it's nice to see everyone after looking at the screen for some time. 

Friday Drinks:

Yep, how can you not have one? We are experimenting with this one; we all get a drink and chat for a little on the screens. I must admit, we need to come up with a game to make it all a little playful.

Barrel time – This is kinda a bi-weekly session where the team gets together (again on the screen), and each melon shares a win and gives a shout-out to someone that helped them achieve their goals. A little morale boost can go a long way 
Yoga with Marina: She doesn't know it hehe, but one of our Designers is also a Yoga instructor so it would be great to have an online session with her and the team. This will not only help team building but would keep us closer as a team. Marina, are you up for it?
Our software – The programs we use to keep everyone moving (Tech Stack)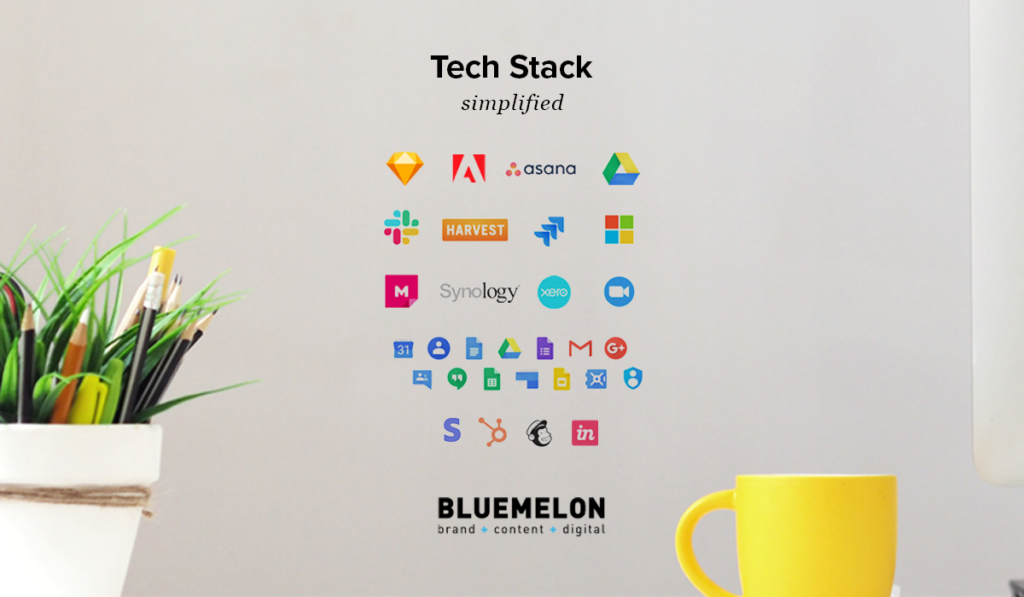 Yep, this one is a bit of a trial and error process. With so many options out there, it's hard to know if something will work until you give it a try. So this is what we use, you may get inspired hehe:
Accounting: Xero
CRM: Hubspot
Project Management: Harvest and Asana (looking into closing Harvest – not loving it atm)

Marketing: MailChimp + Asana + Google Analytics, Yoast

Content: Google Docs + Asana + Sprout Social

Communications: Slack and Asana

Design: Adobe Creative Cloud, Sketch, InVision, Mural, online libraries.

Everyday: Microsoft Office and Google Docs
For now, this is how we are keeping BlueMelon running. We care deeply for our team members and clients and appreciate the trust that they have put in us as we navigate through this crazy time. We're just trying to keep things as normal as possible. We're happy to learn and ride this wave as a team, to keep looking at what we do and to keep improving.
Juan is the director of BlueMelon, a full service creative agency that embraces new ways of working at the speed of light while keeping teams aligned, motivated and delivering great work.