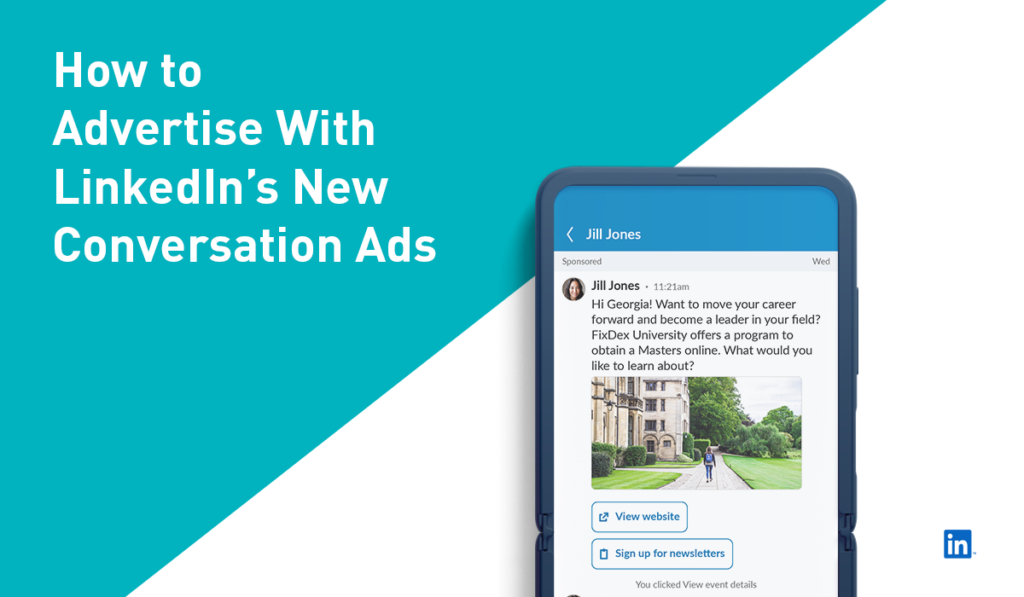 Back in November last year, LinkedIn beta launched a new ad format, which reaches out to prospects via Messenger. As the name suggests, Conversation Ads a personal and informal way to engage prospects one to one in real-time, solve pain points and ultimately generate leads and click-throughs. We were lucky enough to be one of the first agencies in Australia to create a campaign for the format, on behalf of one of our clients in the education sector.

Think you might give them a try? Read on to learn from our experience. Plus at the end, you'll find a FREE handy template to start writing your first conversation.
So what's the difference between Conversation Ads & Sponsored InMail?
The big and exciting difference is that a Conversation Ad will only be delivered to your prospect when they are online on LinkedIn. You know that little green you see next to someone's name in messenger when they are active?

Aside from that, you can think of a Conversation ad as a Watsapp or text message, compared Sponsored InMail being like an email. Rather than giving your prospects paragraphs of information to read, you give them sentences and prompts to drive the interaction.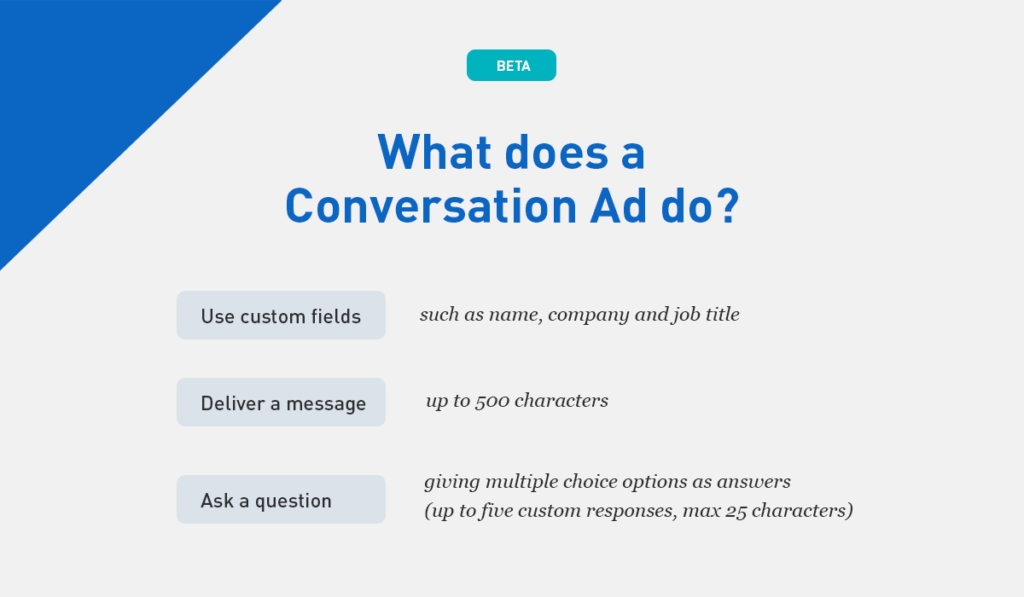 The beta we worked on was the simplest version of Conversation Ads, so bear in mind that the options will be getting more sophisticated in the future. At the time of beta, it could:


Use custom fields, such as name, company and job title to address your prospect
Deliver a message (up to 500 characters)
Ask a question, giving multiple choice options as answers (up to five custom responses, max 25 characters)
Answer back by:

Serving up the next message
Opening a web page
Opening a lead gen form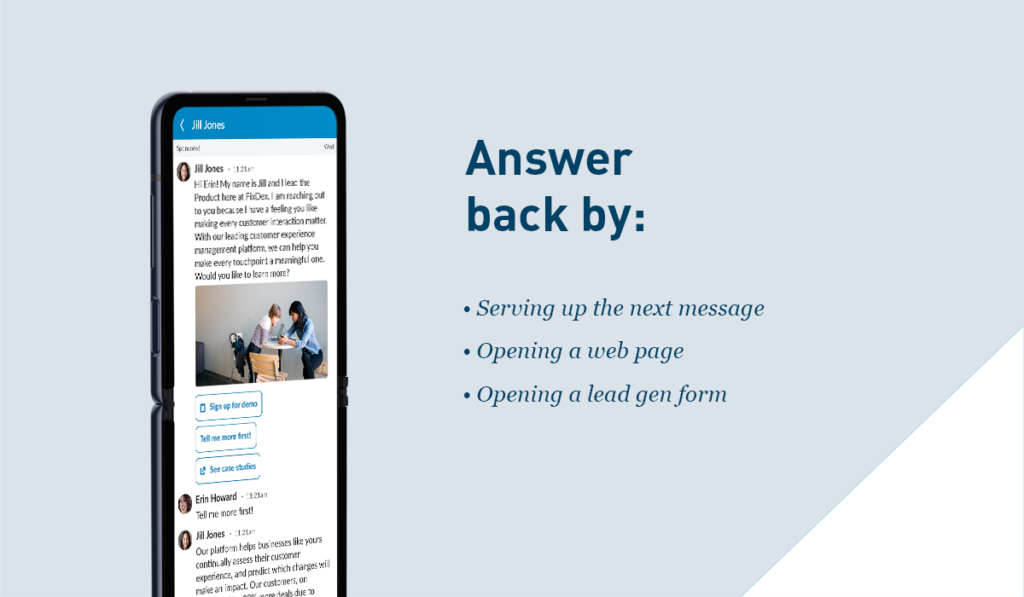 How do you know when it's the right time to use them?
Conversation Ads are fantastic for qualifying where your prospect is in the funnel and delivering a targeted response based on that information. So you can help your prospects and customers access the content and offers most interesting to them instantly, driving higher-quality engagement for you.

It's best to include short, concise details in your Conversation Ad rather than dense, complex and detailed information. For example, you might use the Conversation Ad to qualify a prospect's suitability for your offering and then use the dialogue to capture details to send a PDF brochure or open web page where they can learn more about your products.
How can I target people with Conversation Ads?
With Conversation Ads you have access to the vast array of LinkedIn's targeting capabilities, which includes Company, Job Title, Geographic Location, Demographics, Retargeting, Lookalikes and more.
The psychology of conversation ads
Conversation Ads are a powerful format. It's very personal. Your brand will be jumping into your prospect's world while they're doing something else on LinkedIn and directly engaging them in conversation.

So with the powerful format comes great responsibility. If you're going to interrupt someone, it can only be with relevant, friendly, helpful and human content.

Knowing your customer personas is crucial to this. When we created our first Conversation Ad, we went realllllly deep into the target audience, their underlying motivations, their needs and their pain points. Every word was carefully chosen to pique that customer's interest and appear helpful, not pushy and not annoying.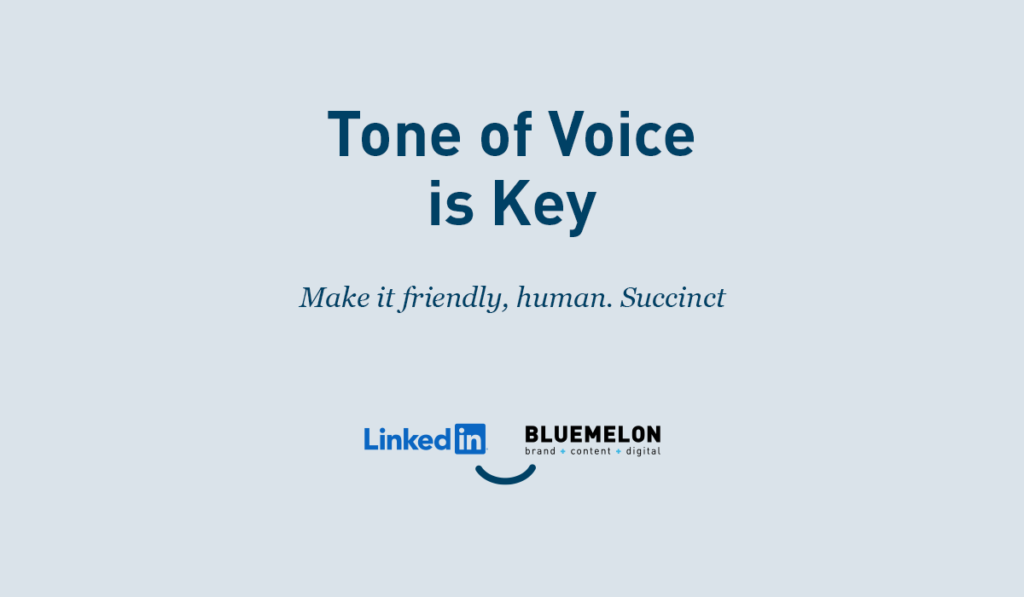 If like many B2B businesses, you have a formal tone of voice, you will need to evolve it for Conversation Ads. In the beta, our client was an educational institution that offers MBA programs. It was our first time working with this client and we had to stretch them a little bit beyond their comfort zone on their tone of voice, to make it friendly, human and succinct enough for messenger format.

Thankfully it paid off and now they are experimenting with the more casual tone of voice on other channels too!
How to draft a conversation (free template!)
So how do you even start to write a conversation ad? With multiple options and pathways, it can get quite confusing and messy. Before we began drafting, we looked around for a tool to help us do the job. We loved the free trial of Botmock, but sadly at this point, they don't work for LinkedIn, so it was a no go for Conversation Ads.
Then we tried to create the conversation flow visually in a tree. But even that was tricky to edit (especially for our copywriter) and when we had to make a few rounds of revisions it was no fun.

In the end, we came up with the perfect solution – which was simpler than you might think!

And since we love you, we're gonna let you download it for free.

Are you going to give Conversation Ads a try?

We'd love to know about your experiences for this new format, so…
#letsconnect