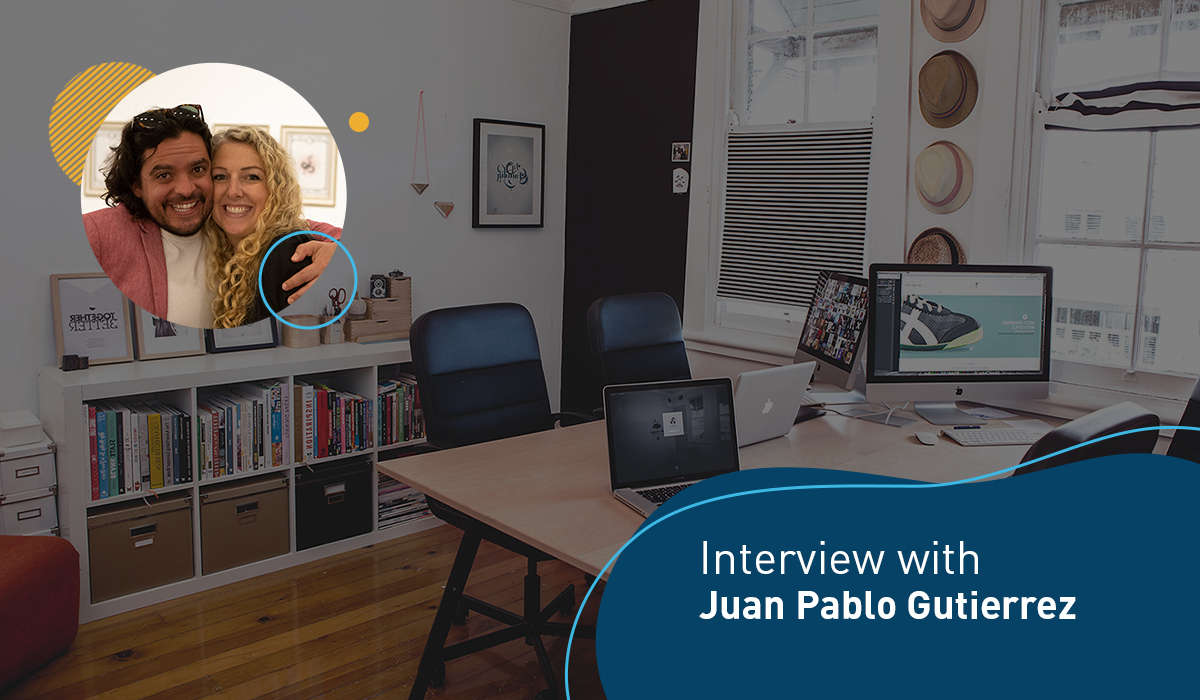 The story of BlueMelon Design tracks trans-national travel. From the valleys of Colombia's misty mountain capital, to navigating Sydney's cut-throat agency culture, and a love story, where two artists married their creative and media backgrounds and bore an agency which is now one of LinkedIn's favoured content agencies.
Plenty of startup success stories start in a parent's basement, and this one is no exception. But not too many startups can say that they've remained personal after moving out of home to an office and taking on BigTech as a client.
Walking back from a mid-morning ocean swim at famous Manly Beach in Sydney's north, in between a sales pitch call with California-based clients, and helping out a young team member with a video edit, director Juan Pablo Gutierrez credits the sea as an extraordinary reminder of the importance of staying true to yourself. No small feat given the agency now works with international companies including Salesforce, Tourism New Zealand, CISCO, Dell, and most notably for 8 years running – LinkedIn.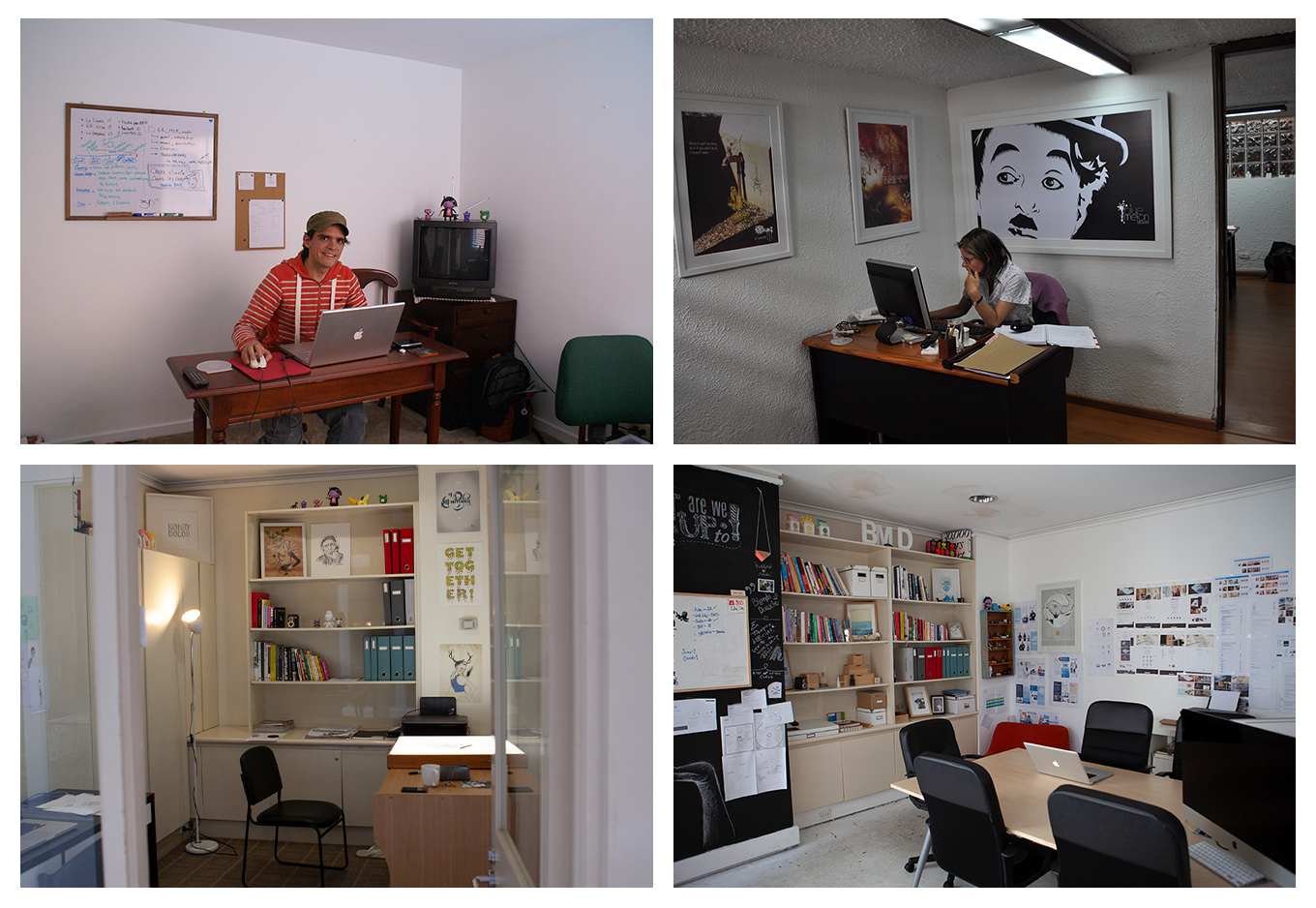 Gutierrez puts it down to a combo of hard work, drive but also importantly – luck – as so many things had to happen for BlueMelon to come together. His arrival to Australia, and chance meeting with work – and life – partner Jacs Wallace, with whom he merged enterprises and opened the agency's first official office in Sydney. Jacs was heading up her own graphic design and branding studio in Sydney, coincidentally also named by colour and fruit, RedBerry Design – specialising in stylish designs for corporates and marketers. At the time, Jacs was working with big names such as Yahoo!7.
The two were working together as design lecturers in the early days of their meetings, before deciding to join efforts and work together on BlueMelon. They started as colleagues, with Jacs the head of department, and Juan a teacher – and from the start were interested in wanting to do creative things together. "The power of BlueMelon today is that fusion of not just companies, but the couple that makes it quite strong." Their first collaboration was "The White Academy," where they offered creative workshops. Now, their creative collaborations look more like a 114-piece art exhibition at the Gaffa Gallery in Sydney's CBD. The pair have been running a biennial open exhibition called PorqueNo ("Why not?" in Spanish) for 10 years running, while developing the agency business.

"We've grown year by year roughly 150 to 200 per cent. When we started there were 3 or 4 of us, now we're 20 to 25. We have people in Australia, we have people in Mexico, and Argentina. And today, touch wood, the relationship keeps growing. The next step is to see if we build a partnership with EMEA and so far, so good."
To say the world of graphic and web design has changed immensely in the past ten years is an understatement. When Juan Pablo Gutierrez started his first business BlueMelon Design in 2012, some key roles in the industry didn't even exist.
Now, the boutique agency is one of LinkedIn's three content agency partners in Australia. And buzzwords like "diversity" and "innovation" don't fall short here, with staff from diverse backgrounds including fine art, advertising, telecommunications, journalism, fashion and industrial design. Plus, there are more women than men in the current team – and almost half of the Melons were born outside of Australia.
The BlueMelon open-plan office is located off a shiny touristic pedestrian mall, "The Corso", overlooking heritage-listed fig and palm trees through green stained glass art deco windows. Sometimes, there are wetsuits hanging out the window from when the Melons run out for an ocean dip in between projects. Hand-drawn illustrations, prints, and paintings are dispersed throughout – some made by the staff themselves, and featured in the agency's in-house biennial art exhibition.

When it comes to maintaining the small-office vibe while working with global clients, BlueMelon director Gutierrez says it's all about remaining agile, and open to change. "I've learnt that creativity has many different facets. You can be creative in how you manage a project, as to how you communicate with your client – as well as doing the creative work."
"The other thing I also wanted to not have – which is hard with scaling and growing – is a culture of no BS, and no egos. I worked in agencies where it was just egos. I don't like that. There's always room for improvement."
BlueMelon began supporting LinkedIn Sydney thanks to Jacs – through a chance encounter with a contact were they we asked to execute graphic design on a simple job. Now, the company has grown to carry out content strategy, video animation, scripting, social media marketing, and full funnel campaign solutions to LinkedIn offices around the world.
The team talks weekly to LinkedIn New York and San Francisco where the partnership LMS Creative Studio is managed – a cross-continental program which sees the Melons deliver full creative services to LinkedIn internal teams.
"We have 7 partnerships. We do work in the US, we do work in Europe, we're now helping APAC again so we're doing things in Singapore and Australia. We're helping them in Canada."
We're helping them from doing design, we're helping them doing content, we're helping them even create content for their enterprise clients, through their Content Partnership. So, imagine a CISCO, or a Salesforce have a campaign in LinkedIn – LinkedIn brings us in as their expert agency to go and do creative for the client. There's been a [humongous] amount of trust on their end because we get introduced to the biggest clients knowing that we can do good work."
A citizen of the world himself – Gutierrez was born in Bogotá, before moving to Australia in his 20's -and with a background in advertising and graphic design, he was well-placed to start a business in Sydney's savage media industry. Given his unique cultural perspective, moving to a country where you don't speak the language, he appreciated good, clear communication more than most. "You rely on things to make sense. Not just language-based, but also systems and the whole experience." And so, BlueMelon has prided itself on being a very customer-focused, user-first agency – long before terms like "user experience (UX)" sprung up.
Today, BlueMelon is producing a variety of creative assets, including animated videos, live action videos, copy, graphic design and collateral pieces. "On top of that, I think the service we provide from an incredible team is very human and friendly. It is something that a lot of agencies say a lot and it sounds cliché, but if you get the chance to work with BlueMelon, you'll notice that we're not your typical agency. We care deeply about the work and our clients."
BlueMelon was dreamt up on the sodden green couches of the new Old Clare Hotel (now knocked down and refurbished into a swanky gentrified black marble hotel) chatting to two university-era friends brainstorming while drinking pints in the usual Friday-night spot. When push came to shove, those friends decided to stick with the "safe route" and get 9-5s. Gutierrez followed suit – but after being belittled at an agency with international accounts, returned to Colombia hat in hand and eventually launched his own business.
And you may be wondering, what's in a name? Juan landed on BlueMelon to name the agency because "it opens the door to the impossible." The fictional fruit is a symbol of imagination conjuring up new realities – because as soon as you have an idea it is in existence. Trying new ways of doing things, and experimenting encourages creative problem solving. It rolls off the tongue, and is easy to say in any language.
Almost a decade later, Juan Pablo says he wants to continue with an ego-free mindset. "Learning's probably everyday – there's something that you can learn, you can do better, it's just never ending."
Stay in touch with BlueMelon at our LinkedIn.