The case study that had multiple cases
Linkedin was looking for a compelling way to show how they helped BlackRock build a thriving social media platform.
Content Strategy | Content Curation | eBook | Infographics | Digital Campaign | Landing Page
Linkedin does more than sell ad space – they partner with their clients to find tailored best practise solutions. Linkedin wanted to demonstrate how partnering with them, can have a massive impact. But they needed to ensure this story would get read, and by the right people.
They had a great story to tell they were after a new way of telling it
Linkedin has become one of the key places for companies to spend their ad dollars. But not everyone knows just what is possible on Linkedin.
Making a case study as good as Linkedin campaigns
The key was finding a way to present case studies that really did justice to what Linkedin offers…and to make other companies say 'I want what they are having.'
We looked at the traditional case study, then we did the opposite.
We created a variety of snakable and long form formats of the case study. This made the content shareable, interactive and informative. Couple that with promotion through a compelling campaign that drove readers to a great variety of touch points rather than just a single case study.
Another option for the the client to share the story around the case study was for us to build out the same case study in usable powerpoint slides so the team could slot the slides very easily into their current sales decks.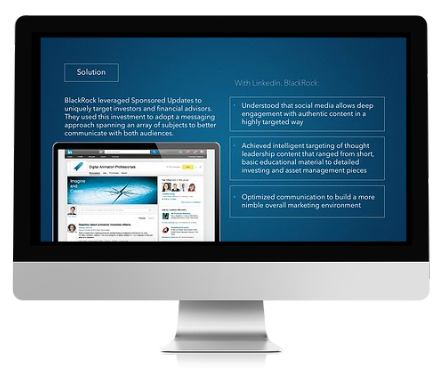 The landing page was our campaign central. Everything was housed here, so that anyone could access the elements they needed and the campaign had a great capture space for leads to land.
We created an easy to read PDF that told the story of Blackrock. It could be downloaded from the landing page we created and then shared as well as account managers being able to email potential clients direct with it.
By creating an engaging set of banner ads and social assets the campaign was launched to drive traffic directly to the landing page where readers could learn more about the case study.
LinkedIn loved the BlueMelon approach to the case study refresh and all its shareable elements.
BlueMelon successfully designed content pieces that communicated LinkedIn's
brand look and feel, while approaching the case studies in a new way.

"We'll never do a traditional case study again. The work from Blue Melon has completely changed the way we think about marketing ourselves."
Menaka
Head of North America Marketing, Enterprise Services, LinkedIn Marketing Solutions
LinkedIn
We found a way to make case studies appear as interesting as their content is
Are your case studies a tad dull?
Don't worry everyone is in the same boat. Case studies are often the last things on everyone's minds. But thankfully it's normally somewhere at the top of ours.
WHAT ARE THE BENEFITS OF WORKING WITH BLUEMELON DESIGN?
Getting brands right is our specialty, we understand what you need and will deliver on your core business values
We like to start by identifying the problem space and getting to know your business
A clearly defined business goal is crucial to any successful content marketing initiative. We say 'no' to content for content's sake. Need help figuring it out? Talk to us. We're happy to help.
We focus in understanding your main pain points
Before we begin we'll need to understand you and your team's pain points. Every company is different, so it all starts with listening. From there we'll go through various stages depending on what we uncover during this stage.
We are humans that value data
If content is king, data is queen. Strategically led data-driven content is what we're all about. The more data and insights about your brand and target audience you can share with us – the better! If you're not sure what data might be helpful, or if it exists – never fear. We're here to help.