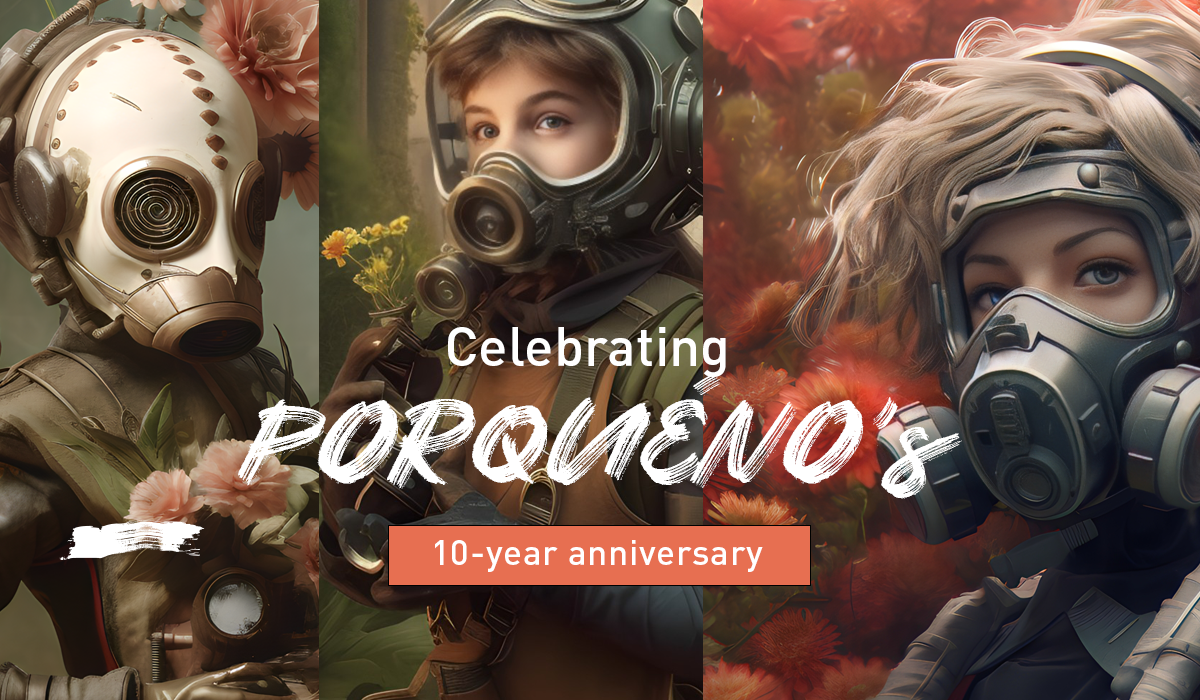 Celebrating PORQUÉNO's 10-year anniversary!

Why not? That's the question PORQUÉNO [pohr-keh-noh] has been asking since 2013. Now, 10 years on, the biennial art exhibition is back in November! This year, PORQUÈNO SIX will continue to explore the boundless potential of creativity with 15 selected artists embracing the explorative attitude of 'why not'.

The theme, An Artist Exploration of Sustainability, will inspire the daring exploration of nature, conservation, climate, renewables, waste, pollution, and our future on this planet. Artists are invited to freely express themselves through art, design and photography, while making a contribution to sustainable thinking.

"As origin sponsors of PORQUÈNO, this year, we aim to bring to the fore the things we care most about — people and planet — through the artist's eyes. We believe creativity can spark new ways to integrate with nature and forge a sustainable future together," said Juan Pablo Gutierrez, Founder and Director, BlueMelon.

Art provokes creative problem solving

Our objective for PORQUÈNO SIX is to provide a refreshing opportunity to contribute to sustainable thinking through immersive artistic expression.

Just because art can be beautiful doesn't mean it's not essential, important, or impactful. PORQUÈNO SIX represents the intersection of art, creativity and problem solving. The connection between art and problem solving has been captured by art historian Amy Herman in her book, Fixed. How to Perfect the Fine Art of Problem-Solving, published in March 2022.

"Art provides a safe space outside of ourselves to analyse our observations and convert those observable details into actionable knowledge," she wrote.

PORQUÈNO provides artists with a safe space, a free immersive experience, where rules and conventions are left behind. In this safe space, imagination and boldness reign. Here, new ideas and possibilities are born. That's the beauty of PORQUÈNO.

After all, why not?

PORQUÈNO SIX: key information

Fifteen artists will be selected to participate in PORQUÈNO SIX, with all creative works to be exhibited at 107 Projects, a thriving creative space in the heart of Redfern.

Lisa Walton, Community Engagement and Venue Manager, 107 Projects, said:
"We particularly love the idea of 'Why Not?' Why not have brilliant artists come together at an iconic Redfern location, why not celebrate creativity in all its shapes and forms; and why not share with each other in our journey through the endless possibilities? It is what 107 Projects is all about — great art by great artists for the sake of sharing, exploring, and transforming. We can't wait to see the lineup of artists, hear about their work, and share it all with our 107 Community … because why not?

If you're a sustainably-focused business, we'd love to hear from you! Contact Juan Guti for more information on partnering with BlueMelon to bring PORQUÈNO SIX to life this November.

Key information

What: PORQUÈNO SIX — An Artist Exploration of Sustainability
Where: 107 Projects, 107 Redfern Street, Redfern, Sydney
Opening night: Wednesday, 15 November 2023
Dates: Wednesday 15- Sunday 20 November 2023
Website: www.porquenoexhibition.com