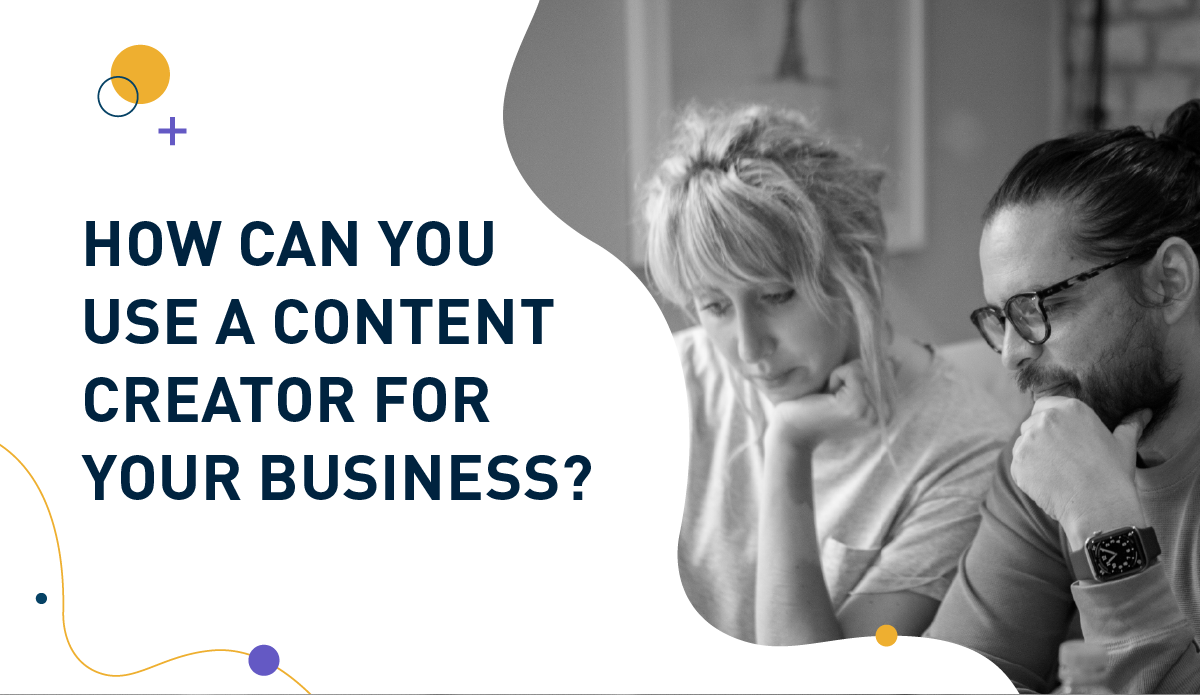 Technology has gone through leaps and bounds over the past few decades and is constantly evolving with the times. Today, we can perform a wide variety of tasks on our mobile phones with a seemingly endless stream of information at our fingertips. But where does all of this information come from? All of those YouTube tutorials and 'handy tip' blog posts? They're produced by content creators.
In this article, we're going to look at how you can leverage a content creator for the benefit of your business.

What does a content creator do?
Content creators come in all shapes and sizes, some specialising in the written word, others in video and graphic design. The purpose of content creation varies significantly, depending on each article, however the overall goal is to inspire, educate, and engage.

Why is content creation so important for a business?
So, why is content creation so important for a business? Do you really need to create content to thrive in today's marketplace? The short answer is yes, and this is because creating content helps you build a relationship with your audience. It enables you to answer questions, provide authoritative information, speak with your customers, and ultimately remain relevant.
Put it this way: imagine you're on holiday in Greece. You approach a tourist information help desk and there are two people sitting there. One person answers all of your questions and helps you out while the other just sits there staring at their phone. Which person are you going to remember? And who will you return to the next time you need a hand? Content creation works very much the same way. In order to thrive, you have to work for it.

Is content creation something you can handle yourself?
Not really; not effectively at least. Certainly, if you drop all of your other duties and focus solely on creating content for your business then you can experience some success with it. However, it is important to recognise that content creation is very much a full-time job. If you try to balance running your business, managing your employees, and creating regular and high-quality content, then you can kiss your social life goodbye.
As a small business owner, perhaps it is possible. But if you really want to experience growth and start pulling in more customers, then investing in quality content creation is a great way to kick-start that progression.
Just as you eventually hire a bookkeeper and accountant to take care of the money, think of a content creator in the same way. Delegate the time-consuming tasks to those who specialise in that field while focusing your attentions on what you do best.

Is it better to hire an in-house content creator or partner with an agency?
In general, it is better to partner with an agency and outsource your content creation requirements.
Working with a content creation agency:
 

An agency or freelance content creator will work hard to keep you happy and maintain your relationship

 

When outsourcing you only pay for the content that you receive

 

You'll be working with experienced content creators who are specialised in it

Hiring an in-house content creator:
 

You have to pay them a salary

 

They might need training (as you'll have to pay more for a fully-qualified and experienced content creator)

 

They require benefits, holidays, sick days, etc.

 

What incentives will they have to work quickly? (freelancers and agencies get paid per piece)

We could go on, but the message is clear: when you outsource your requirements you keep your obligations to a minimum.

What are the benefits of using a content creator?
So, what are the benefits of using a content creator? Here's everything you need to know about how it can transform your business:
–    Expand your online presence: content creation is great for expanding your online presence and one of the ways it does this is by improving your SEO (search engine optimisation). The more quality content you have out there tied to your brand, the more reputable and reliable you will be in the eyes of search engines such as Google – thus potentially driving more traffic toward you.
–    Build relationships: as mentioned above, content creation can help you build relationships with your audience. When you create quality content that people engage with, you can respond to them on social media and start developing more content geared toward them (i.e., "share your questions in the comments and I'll try and answer some in the next video," etc.).
–    Establish trust: Everyone claims to be an expert in their field but few back it up with evidence. When you create informative content you establish yourself as an authority in your field. The more valuable information you provide the more likely your audience will feel confident engaging with your brand and purchasing your products and/or services. 
–    Content is reusable: you can take a piece of content and stretch it out even further, for example: sharing each 'benefit of using a content creator' as individual social media posts.
–    It's a worthwhile investment: do your research and find the right content creator for you. When you find the ideal balance of expertise, capability, and affordability, coupled with the return on your investment should they succeed, you'll be flying!
–    Guilt-free promotion: quality content creators will draw attention to your brand without being too pushy. There's nothing worse than being spammed with useless, self-serving content. Useful, informative, and engaging content on the other hand is the dream.

Conclusion
There are so many ways in which content creation can benefit your business – those shared above are merely the tip of the iceberg. Working with a specialist content creator is an essentiality if you wish to outshine your competitors and take your business to the next level.
Plus, when you want to learn more about reaching the B2B community, read our blog on how to get started with content marketing on LinkedIn. You can also check out how we do content here.
If content creation is key for you, book a call with the BlueMelon Design business development team.