The new school for creative minds
Building the right brand and digital experience
for a school that teaches creativity.
BRAND & BRAND COMMUNICATION | SOCIAL | DIGITAL EXPERIENCES
Branding, Website, Social Media, Content
The White Academy offers a new way of learning, from industry professionals themselves – through a collection of workshops across creative and design fields. Their mission is to stay truthful to the power of creativity and learning, enabling people to participate in a fun, professional and friendly environment. Based in Manly, they foster a community of creative minds and share their vision to teach new skills at a very human level.
Create space for creativity.
The White Academy wanted to cut through and show that they were all about sharing creative knowledge from within the industry and across the depth of their experience, not from a curriculum.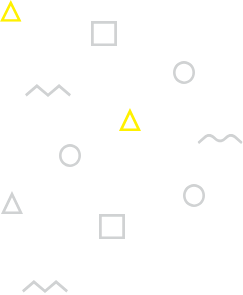 Everything you need to build a beautiful brand from scratch.
The White Academy engaged us to help build their brand from the ground up. From logos, to patterns, to the website, course collateral and social media content.
A brand that's as creative and dynamic as the courses on offer.
Blue Melon created the type of brand, website, marketing collateral and stationery for The White Academy that showcased them as a place for learning, exploring and celebrating all round creativity.
A Distinctive Look & Feel
The unifying colour palette across all assets was centered around monochrome with pops of yellow, to make it mature yet fun.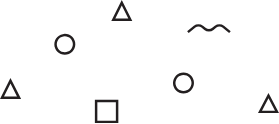 BlueMelon shot all of the launch photography and video, from opening night coverage, to in-class assets which were used to promote the individual workshops. The human centered imagery captured the fun and approachable vibe of the classes, making them super appealing to prospective students. The two shoots created an extensive library of images for later use.

We designed all of the White Academy's course collateral across print and digital. All of the assets were simple, beautiful, human centered and cohesive.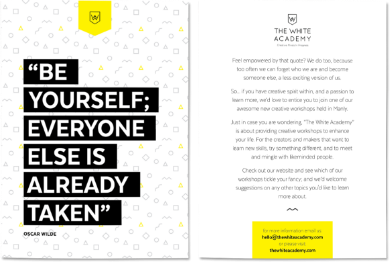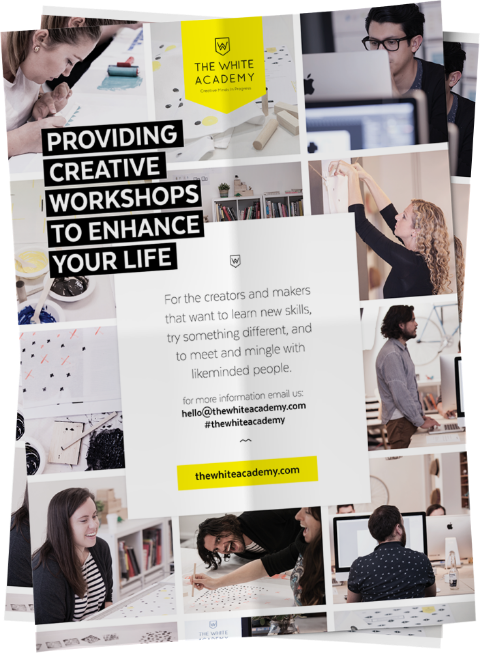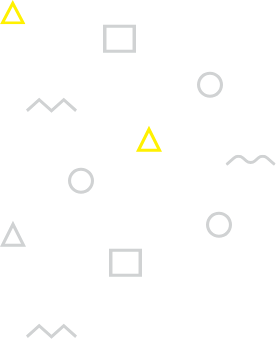 The website was designed to allow uses to find new course, book and pay online in a seemless, friendly and creative way.
DISCOVER. BOOK. PAY. PLAY.
We developed a friendly, accessible tone of voice for all comms channels as well as a suite of secondary brand elements and patterns which unified the website and social.

"I was looking for a clever, solid, friendly, dynamic brand the could easily be translated into our world of education and now a got a clever brand that stands in its own 2 feet"
Juan Gutierrez
Co-Founder
The White Academy
A brand that's creative,
on-point and inspiring.
The White Academy are in love with their new brand and digital experiences.
Are you building a business?
First impressions count! So if you can, engage us early to create a beautiful brand that's as awesome as you are. With a bespoke suite of brand and digital assets, you'll be able to hit the ground running and maximise every opportunity that comes your way.

WHAT ARE THE BENEFITS OF WORKING WITH BLUEMELON DESIGN?
Getting brands right is our specialty, we understand what you need and will deliver on your core business values
We focus on the idea of creating memorable and distinctive brands
A brand is more than a logo, a tag line, a style guide or creating a design system for a product. We like to look at brands in a holistic way and craft each element with care. That is our secret.
Brand Strategy, Identity and beautiful executions
The strategy helps us look at the big picture, it sets the path for a healthy market rollout. The identity, is how the brand will work together from voice, look and feel and behaviour. And the execution. Well that is the chocolate icing on the cake.
We like to measure your Brand success
Looking from the inside as well as the outside. We ask, we listen, we evaluate and track how your consumers feel about the brand, or why not, we may check with some internal staff to see how they feel.